Wade O'Briant named 2022 Lineman of the Year
Sometimes Mama knows best.
That was certainly the case for Yazoo Valley Electric's Wade O'Briant when his mother Donna urged him to consider a different career path.
After graduating from Winona Christian School in 2009, O'Briant planned to go to work in the oil field. His older brother Zac was already working in the oil industry and had a job lined up for Wade.
"My mama begged me to go take my ACT just to see how I would do," he said. "She wanted me to try lineman school. I didn't want to do it. I didn't really know anything about being a lineman. I had no idea."
Things changed quickly when O'Briant arrived at lineman school at Holmes Community College.
"I ended up going to lineman school to make her happy, but the first time I climbed a pole I fell in love with it," he said.
O'Briant was hired by Yazoo Valley Electric immediately after completing lineman school. Thirteen years later he continues to find lineman work rewarding.
"I love being outside, and I love helping people," he said. "It feels like you're doing something worthwhile when you're out there getting people's power back on. Of course it gets aggravating at times, but I wouldn't change anything. I may complain sometimes, but there's really nothing in the world I'd rather be doing."
O'Briant enjoys the variety of situations he finds himself in doing linework.
"It stays interesting because you're doing something different every day," he said. "There is something different about every job."
O'Briant has been successful as a lineman. He was recently selected by his peers as Yazoo Valley Electric's 2022 Lineman of the Year.
When he's not working, O'Briant and his wife Ashley spend much of their free time helping their three sons, Braxton, 8, and twins Spencer and Stokes, 5, pursue their hobby of racing dirt bikes.
"Every weekend we're racing dirt bikes somewhere," he said.
Dirt bike racing is a family tradition. O'Briant and his brother also raced in their younger days.
"We traveled all over racing," he said. "I raced my whole life, until I turned 18 and had to go to work."
The O'Briant family recently built a home on their family land between Durant and West. That came with the added benefit of getting him closer to were he does the majority of his work in Yazoo Valley's northern territory.
"That's home to me," he said. "I consider all of that home."
And many members of Yazoo Valley Electric Power Association who know they can depend on O'Briant to answer the call at any time when the lights go out are grateful for that.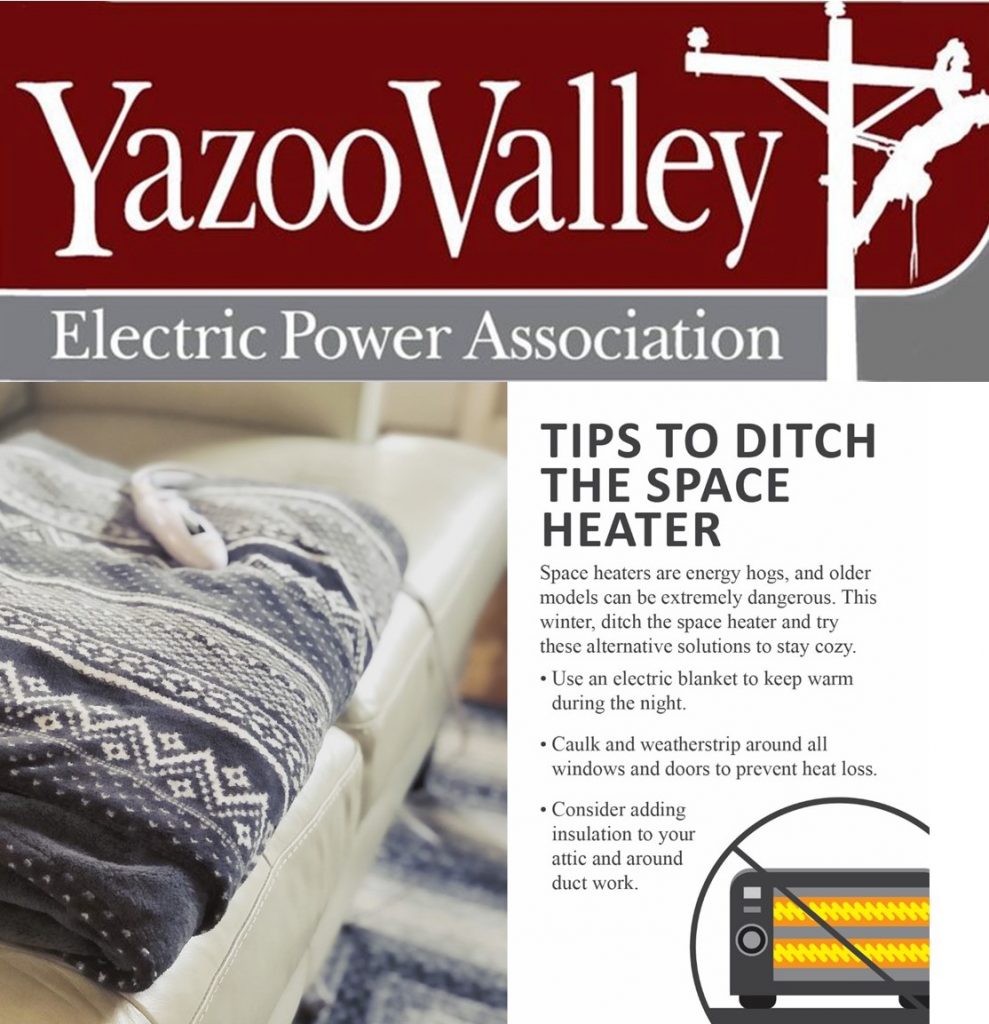 Are Portable Space Heaters Efficient for My Home?
By Abby Berry
Small space heaters are meant to do exactly as their name says: heat a small space. But unfortunately, many people use portable space heaters to heat their entire home, which can really take a toll on your energy bills. The truth is, whether you should use space heaters really depends on your home's efficiency and energy needs.
If you're using a space heater to compensate for problems in your home, like inadequate insulation, drafty windows and exterior doors, or an inefficient heating system, space heaters are not a practical solution. Your best bet is to improve the overall efficiency of your home. If you're on a tight budget, caulking and weather stripping around windows and exterior doors is a low-cost, easy way to save energy. Depending on the size of your home, adding insulation can be a great next step. Loose fill insulation typically costs $1 to $1.50 per square foot. Taking these proactive energy-saving measures rather than relying on space heaters for supplemental warmth can reduce your heating and cooling bills for years to come.
Perhaps your home is energy efficient but you're cold-natured and want a specific room to be cozier than the rest. In this case, a space heater may work for your needs. A good comparison is ceiling fans; we use ceiling fans in the summer to cool people, not rooms. A space heater can be used in a similar way during winter months. Only use a space heater in small spaces that you're occupying and, if possible, try to shut off other rooms to contain the warmth provided by the space heater. If you decide to use a space heater to heat a small area in your home, make sure the heater is properly sized for the space; most heaters include a general sizing table.
A word about safety: the U.S. Consumer Product Safety Commission estimates more than 25,000 residential fires are associated with the use of space heaters every year, resulting in more than 300 deaths. If you must use a space heater, purchase a newer model that includes the most current safety features and make sure it carries the Underwriter's Laboratory (UL) label. Choose a thermostatically controlled heater to avoid energy waste and overheating, and place the heater on a level surface away from foot traffic when in use. Always keep children and pets away from space heaters.
Consider alternative ways to stay warm like extra layers of clothing or UL-approved electric blankets. If you have hardwood or tile floors, lay down area rugs to provide additional insulation (and appeal!) and maintain warmth.
We know it's cold out there, but remember in addition to safety concerns, space heaters can greatly increase your energy bills if used improperly.
If you're looking for alternative ways to save energy and increase comfort in your home, contact Yazoo Valley Electric at 662-746-4251. We're here to help you manage your energy use.
Abby Berry writes on consumer and cooperative affairs for the National Rural Electric Cooperative Association, the national trade association representing more than 900 local electric cooperatives. From growing suburbs to remote farming communities, electric co-ops serve as engines of economic development for 42 million Americans across 56% of the nation's landscape.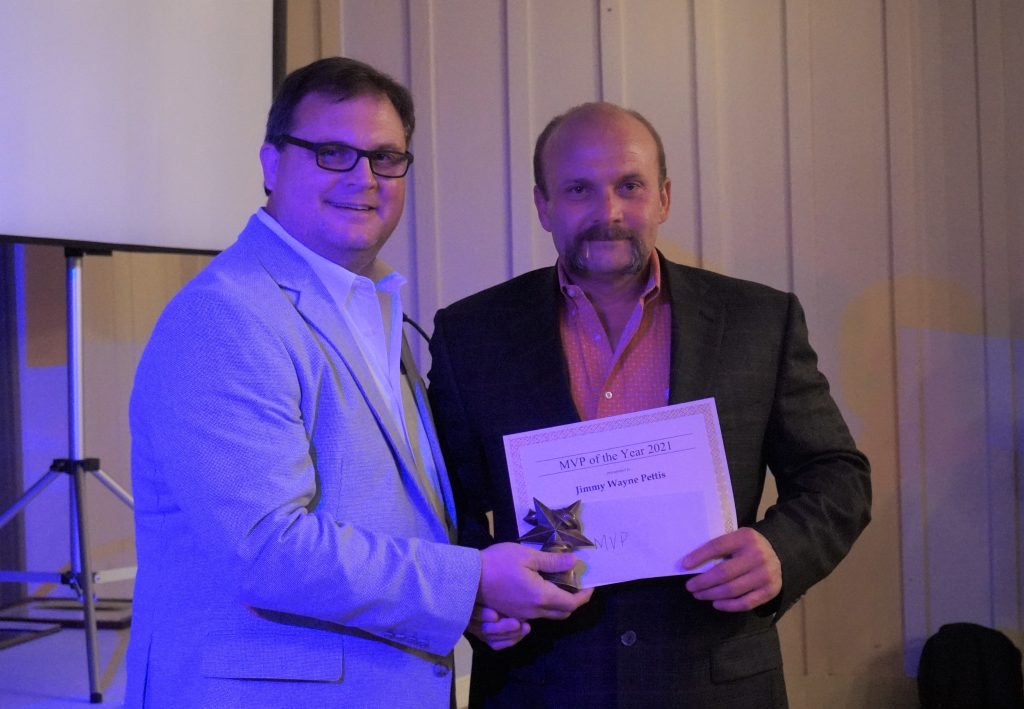 Jimmy Wayne Pettis named Yazoo Valley's 2021 MVP
Jimmy Wayne Pettis doesn't like talking about himself.
He doesn't have to.
His actions speak for him.
In 28 years at Yazoo Valley Electric Pettis has developed a reputation as a hard worker who is always dependable.
In addition to his consistent performance on the job, Pettis contributes in other meaningful ways – perhaps most notably by leading Monday morning devotional meetings. Those meetings, which are totally voluntary, are always well attended. That's probably because the message is always authentic and spoken from the heart.
Considering all that Pettis does at Yazoo Valley Electric, he may have been the only person who was surprised when he was voted MVP at the annual Employee Awards Banquet this year. Pettis was the overwhelming favorite among his fellow employee voters.
"Although other workers at Yazoo Valley work hard, day in and day out, to serve our members, Jimmy Wayne Pettis stands out," said General Manager Michael Neely, who has worked with Pettis for the last 15 years. "He has a servant's heart and is the epitome of hard work and perseverance. Jim's work ethic and abilities are equaled by his caring heart and ability to listen to others. I'm honored to have Jim as an employee of this Association and even more honored to have him as a friend."
You have to love what you're doing to be able to stick with a job for nearly three decades. When asked what appeals to him about his work at Yazoo Valley, Pettis didn't hesitate to answer.
"Being able to help people," he said. "You basically get paid for community service working here."
Pettis was just as quick to answer when asked what makes Yazoo Valley Electric special.
"Yazoo Valley has always been like a family, and I mean that for real," Pettis said. "You hear a lot of companies say that, but Yazoo Valley has always displayed it. We look out for each other. A lot of people preach that, but they don't really mean it. It happens here."
When asked what advice he would give to a young employee just starting out at Yazoo Valley Electric, Pettis had some simple words of wisdom.
"Stay the course," he said. "That's the best advice I could give anyone here. If you want to stay at home and have a good job with good benefits and work in a good environment, you just have to stay the course."